Information about Victoria and Vancouver Island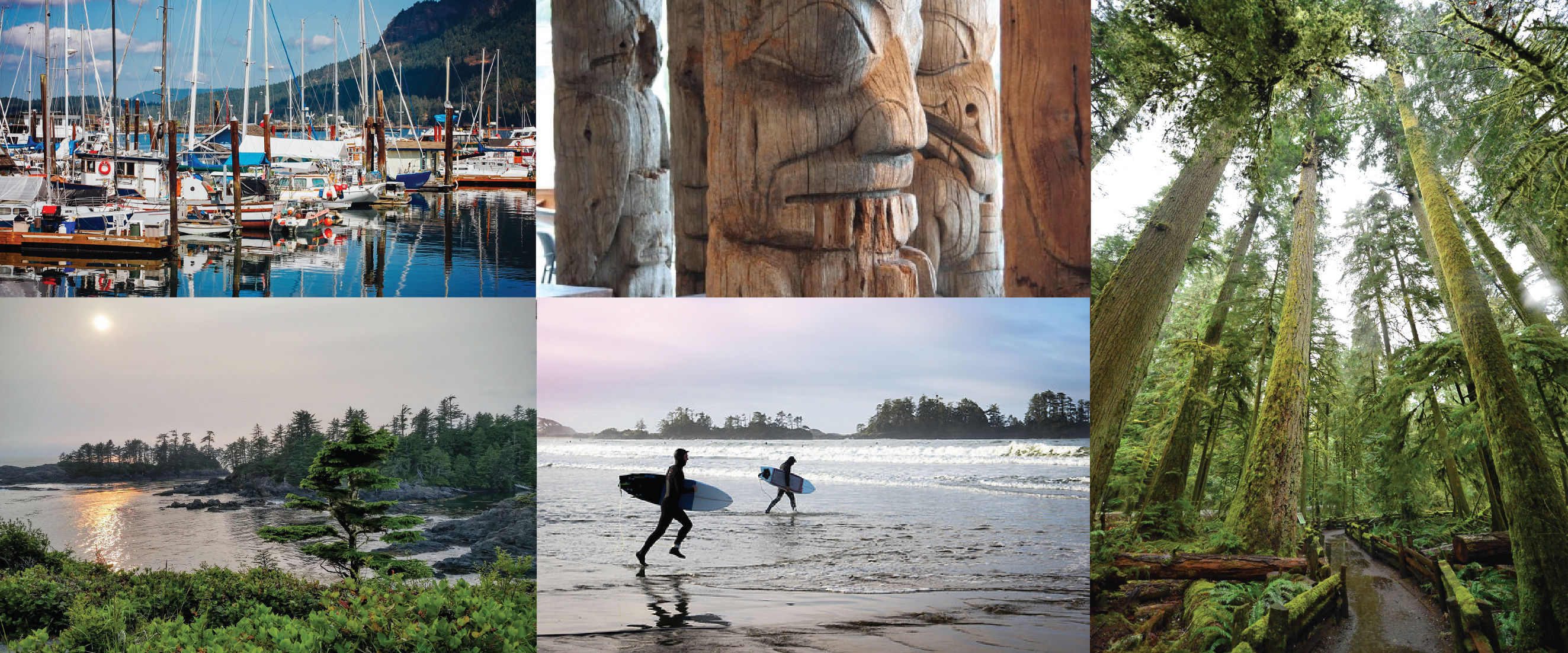 Places to visit
Main Activities and distance from Victoria
Near Victoria
East Sooke Regional Park

- Hike along the west coast (34 km - 53 min)
- Swim at Sooke Potholes Provincial Park (38 km - 57 min)

Mount Douglas
- Hike to the top to have a 360o view of Victoria and the Straits of Georgia nd Juan de Fuca (10 km -23 min)
Victoria's nearby lakes

Go for refreshing swim at:

- Thetis lake (10 km - 23 min)
- Prospect lake (15 km - 26 min)
- Elk Lake (14 km - 24 min)
- Durrance lake ( 20 km - 33 min)

Port Renfrew
- Botanical beach tide pools at the Juan de Fuca Provincial Park (116 km - 2 hr 20 min)
Tofino/Ucluelet
- Surfing, campimg, fishing, kayaking, hot springs, whale watching
(Ucluelet: 294 km - 4 hr 10 min)
(Tofino: 319 km - 4 hr 30 min)
Salt Spring Island

- Increadible sightseeing, kayaking, whale wacthing, gastronomic touring, local crafts and arts
Take the BC Ferries line from Swartz Bay to cross to Salt Spring Island (35 minutes).

Whale Watching in Victoria
Springtide Whale Watching & Eco Tours is offering a 30% discount to all 2016 INCISE Symposium attendees, friends and family. You will need to make a reservation directly with SpringTide (not through your hotel front desk) and mention your participation at the INCISE Symposium to get the discounted rates. Do not miss it!
Royal BC Museum
A journey through British Coulumbia's history, first nation's culture, lanscapes and wildlife can be experienced at the Royal BC Museum, which is located only a few steps from the sympoium venue in downtown Victoria.
Local Organizing Committee (ONC):
INCISE Steering Committee:
Veerle Huvene (NOC)

Jamie Davies (UPL)

Joshu Mountjoy (NIWA)

Rob Hall (UEA)

Peter Harris (GRID-Arendal)

Nathalie Valette-Silver (NOAA)

Aaron Micallef (University of Malta)

Fabio De Leo (ONC)